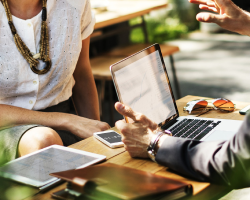 Whether you're a seasoned property investor, or you just bought your first rental property, your goals are probably the same. You want to make as much profit as you can, expand your rental properties, and grow your business.
If you're like many property owners, you don't want to handle the day-to-day operations, but you aren't sure what to do. The answer is to hire someone to do it for you.
In this article, we look at the top 10 reasons to hire a professional property management company.
#1: Marketing
One important reason to hire a professional team is because they have access to strong marketing strategies to help you fill your property.
Property managers are well-equipped to market your rentals. Because most potential tenants begin their searches online, your property management company is better able to showcase your properties with engaging information and market them across the internet.
#2: Tenant Screening
Screening and finding tenants are time consuming tasks. Sometimes even your best screening leaves you with problems. But, when you hire a professional property management company, they handle the hassle of interviewing and background checks.
They can more effectively screen your applicants to find the best ones.
#3: Daily Issues
One of the most stressful and time-consuming aspects of owning properties is managing the daily operations. This includes rent collection, inspections, dealing with conflicts, and maintenance issues.
When you hire someone else to take care of this for you, you have more time for your own work.
#4: Legal Issues
This is a terrific reason to hire a property management company. Each city and state have their own rules and laws that must be followed.
Professional management teams are better equipped and more knowledgeable. They will ensure you are abiding by the laws, so you avoid any lawsuits.
#5: Rent Collection
Collecting rent is not a fun task for property owners. This is a great reason to hand your property management over to a team to do this for you.
Management companies have systems in place to collect rent and make sure it's done on time. When you have someone efficiently collecting your rent, you keep the cash flow coming in.
#6: Geographic Investments
If you want to invest in properties in states you don't live in, a professional property management company is especially helpful.
They are hands on, while you can stay hands off in another state, making it easier for you to have properties across state lines.
#7: Rental Rates
Property management companies help you set appropriate rent rates. They know the going rates in your market and how to price your rentals, so you stay competitive and have a low vacancy rate.
#8: Evictions
Evicting tenants must be done with care due to legal guidelines. A property team can do this for you, so you don't have to.
#9: Time
When you hire a property manager to take care of the day-to-day aspects of your investment property, you have free time to look for new investment opportunities.
Your portfolio grows while someone else takes care of the daily work.
#10: Retention Rates
Another bonus of hiring a professional team is a higher retention rate.
Because you have someone handling your tenants and resolving conflicts, you're more likely to have a smaller turnover rate.
By keeping healthy relationships with your renters through communication, proper handling of maintenance issues, and keeping the property well-maintained, you enjoy a higher retention rate which is good for business.
Final Thoughts
Much goes into being a landlord, and many property owners are smart to hire a professional property management company.
You can rest assured they'll find you the best tenants, manage the landlord-tenant relationship, maintain your properties, and handle issues as they arise.
Hiring a professional property management company makes good business sense and helps you succeed in your venture.
At PMI East Lyme Property Management, we are your full-service property management company, specializing in single family and small to mid-sized multi-family residential properties. We are here to protect your investments and we make property management, manageable.
Photo by Tierra Mallorca on Unsplash