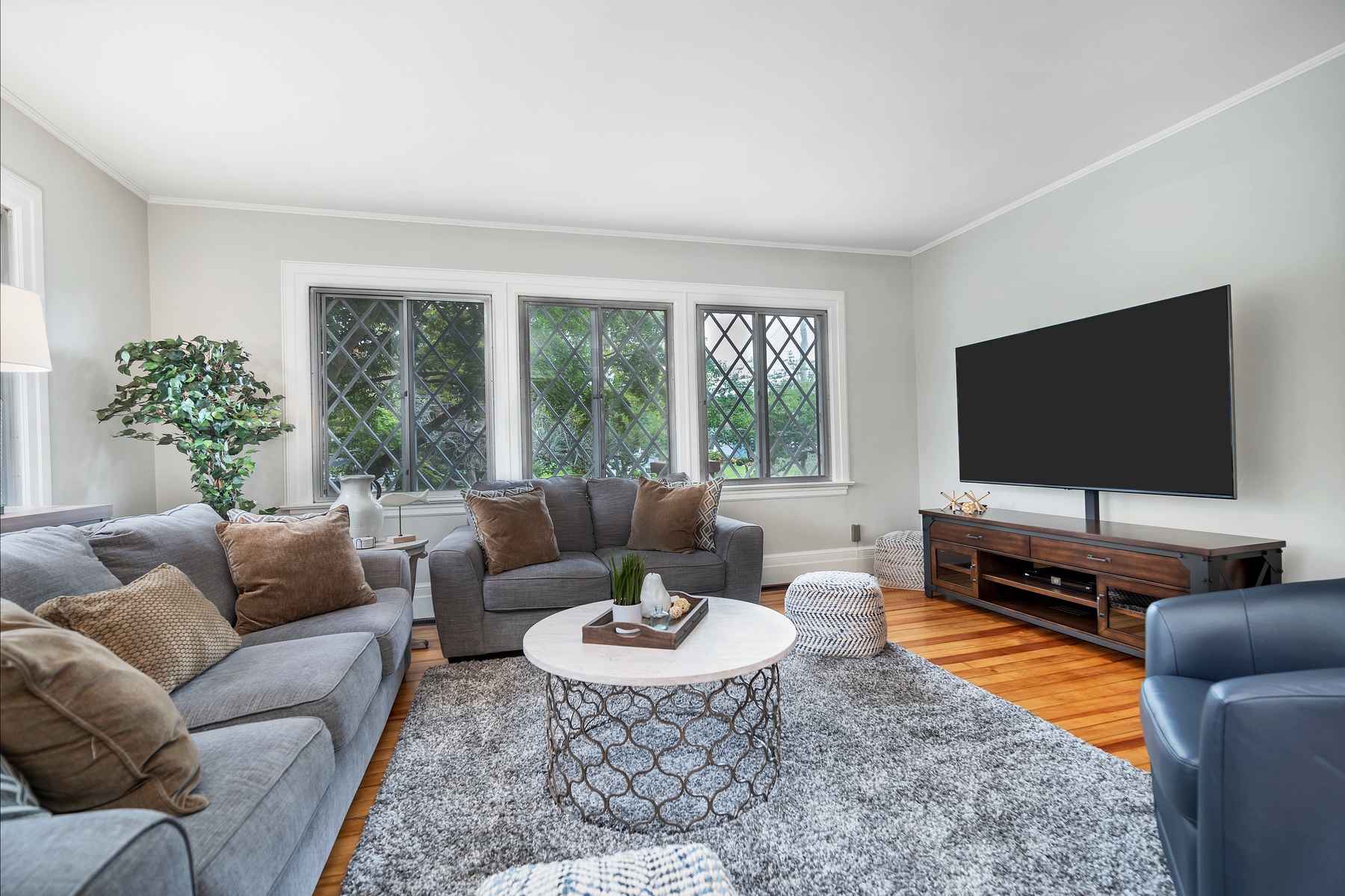 Nestled just two blocks from Eastern Point Beach in Groton, Connecticut, lies a luxurious Frank Lloyd Wright-inspired vacation rental that is sure to take your breath away. This expansive 6,800 square foot family home offers eight distinct sleeping areas, six bathrooms, and elegant living spaces, making it the perfect getaway for families, friends, book clubs, golf outings, business retreats, and more.
Once a lavish retreat for a wealthy family, this private haven has been meticulously renovated and furnished to offer modern amenities and a touch of luxury. The spacious living areas feature cozy nooks for intimate conversations and grand gathering spaces for large groups. The "Grand Game Room" is the ultimate entertainment space, equipped with a pool table, big-screen TV, board game table, and a separate video gaming area. The front of the house features a spacious living room, separate TV room, and large semi-formal dining room, while a screened porch offers a gentle breeze and a stunning view of the Ledge Lighthouse.
The fully-equipped kitchen boasts a walk-in pantry and an additional dining area for 8-10 guests, while all bedrooms are located on the second floor, furnished with comfy mattresses and blackout blinds for your comfort. The unique "tower room" offers stunning 360-degree views and is the perfect spot to read, converse, work, or play. And the vast backyard lawn is ideal for outdoor games such as croquet, frisbee golf, bocce ball, or soccer.
But what makes this vacation rental truly special is its location. Groton, Connecticut, is a hidden gem on the coast of New England, offering a unique blend of history, culture, and natural beauty. With easy access to nearby attractions and activities, your stay at this luxurious vacation rental will be nothing short of memorable.
Eastern Point Beach is just a few minutes' walk or drive away, and the rental comes with beach passes so you can enjoy the beach and all of its offerings. This quaint destination with picnic tables & a playground offers swimming, fishing & bird-watching. In addition, numerous local attractions including museums, casinos, kayaking and paddleboard rentals, cruises, dining options, bakeries, cafes, lobster shacks, and grocery stores are all within easy reach.
If you're in the mood for outdoor activities, Groton offers plenty of options. Bluff Point State Park is a scenic location for hiking, mountain biking, and picnicking, while Haley Farm State Park offers picturesque views along the coastal reserve and estuary. Esker Point Beach is a family-friendly beach with a playground, picnic tables, and seasonal food trucks.
For history buffs, Fort Griswold Battlefield State Park is a historic Revolutionary War site with a monument and small museum, while the Avery-Copp House Museum showcases life in the Victorian era.
If you're in the mood for some entertainment or nightlife, Groton has plenty to offer. The Garde Arts Center is a historic theater offering concerts, plays, and movie screenings, while the Art Gallery at Eastern Connecticut State University features rotating exhibitions from local and national artists. And when it comes to dining, Groton has a wide range of options to suit every taste and budget, from local favorites like Paul's Pasta Shop, which offers homemade pasta dishes and a lovely view of the Thames River, to trendy gastropubs like The Engine Room, which serves craft beers, artisanal cocktails, and delicious burgers.
Whether you're looking to explore the rich history and culture of New England, soak up some sun on the beach, or simply relax in the comfort and luxury of a stunning vacation rental, Groton, Connecticut, and this luxurious Frank Lloyd Wright-inspired home have everything you need for an unforgettable getaway. So why wait book today here: https://manage.bookingautomation.com/booking.php?propid=144161