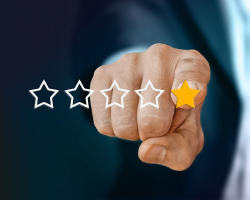 As a property owner, the last thing you want is for your property to sit empty for any length of time. In fact, in the best-case scenario, you'd have your property rented before the current renter vacates.
The longer your property sits vacant, the more money you are going to lose. So, let's look at five tips to marketing your Niantic, CT, vacancy for results.
#1: List Your Property Online
One of the first things you want to do is list your property on several of the online listing sites. You'll find that renters in Niantic, Connecticut, are looking online for properties to look at.
In fact, more than 80% of renters use online resources when their searching available properties.
You'll find a myriad of online choices that help you list your property, and most do it for free. In addition, you want to make sure your property management company lists your property vacancy on their website, too.
Here are a few places to list your property:
Zillow.com
Rent.com
Apartments.com
Trulia.com
Realtor.com
#2: Use Word of Mouth
Another way to market your Niantic, CT, property is through word of mouth. You want to reach out to your network to find the best renters for your vacant property.
For example, tell all your friends, family, and co-workers. Ask your vacating tenant (if you're on good terms) if they have any referrals.
Consider having a waiting list of renters available as well that you can reach out to when a vacancy pops up.
Don't forget to screen all of your rental applicants in the same manner. Just because a member of your family or a friend recommended them doesn't mean you want to skip this crucial step.
#3: Use Professional Photos
When listing your property online, you want to maximize your visuals.
You can do this with professional staging and photos. This will make your property stand out from the competition. Staging your property and having someone take excellent photos will make your property more appealing to potential renters.
You can also consider a walk-thru video that gives applicants a really thorough view of your property. This helps them more immediately make a decision to fill out your application.
#4: Share the Property on Social Media
Another place to market your Niantic, CT, vacancy is through social media platforms like Facebook and Instagram.
These are superb resources for finding tenants for your property. If your business has a Facebook page, you can create a Facebook Marketplace listing. This is free.
You can then share it on your personal page as well as your business page for others to see and then to share it to others.
#5: Create Powerful Descriptions
Along with that video or even 360 views of the interior and exterior of your property, you want to make sure you write a top-notch description of your vacancy.
First, you need to know what renters in Niantic, Connecticut, are looking for. Then, you want to list all of those amenities in your property listings. Be incredibly thorough and tell them what's new and what's not.
Get so detailed that you tell them how big the closets are and what the storage space in the kitchen is like.
By being detailed, you don't set unrealistic expectations for your potential clients.
Then, go further and elaborate on your pet policy, income and credit requirements, and background check information.
This also helps prevent you from wasting too much time showing the property to people who aren't qualified or who are looking for something else.
Final Thoughts
Now that you have our five tips for marketing your Niantic, CT, vacancy for results, you are ready to advertise your property.
Finally, one more marketing tactic is to create a sense of urgency with your listing. Create a fear of missing out so your potential renters understand they need to act now because your property won't stay empty for long.
At PMI East Lyme Property Management, we are your full-service residential and commercial property management company. We are here to protect your investments every day and make investing in property easier.
Photo by Dane Deaner on Unsplash